The tools shown in the images below are tools for knowledge workers. They are frameworks for thinking about issues, concepts, ideas, problems and other matters encountered in the workplace. As with any tool, their values lies in the uses to which they are put and the skill with which they are used. You can use them in analyzing situations, solving problems, planning a course of action, deciding what to do and simply developing a better understanding of the situation. One way I can add value is in helping you put them to use on matters of concern to you.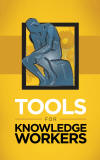 These are tools I've developed over the course of more than 40 years of working as a consultant (internal and external) and as an executive. All have been used in one way or another in the course of improving the performance of people, processes or organizations

As you can see from scanning the thumbnails below, the tools are primarily visual in nature. Clicking on a thumbnail below will reveal a larger image. Clicking on the text below a thumbnail will take you to that tool. All tools fit on one page. They present the visual and a modest amount of text. All one-page tools also contain links to longer pieces for those who want more information. NOTE: All one-page tools are in PDF format.

I add new tools from time to time and you will always find them at the bottom of the display. The latest tool I add will always be the last one displayed.

Contact me to discuss how these tools can be put to use improving the performance of your people, processes or organization. I am especially interested in helping you make use of the Solution Engineering Process and the Target (GAP-ACT) Model. I am available to make presentations, conduct workshops and provide consulting services.

NOTICE: My book, Tools for Knowledge Workers, Vol 1, is now available on Kindle. It is a collection of 12 visual thinking tools along with information explaining each tool and how to use it, including examples and cases. Chapter 1 presents each tool in a one-page format. Chapters 2-13 discuss uses and applications of each tool. You can access the book on Amazon by clicking on the image above.