Our Objective is to Help You Achieve Yours
Articles Home Services Tool Room
SOLUTION ENGINEERING: Solving Problems in the Workplace
You are confronted with a problem when action is required but the appropriate action is not immediately apparent. Consequently, you must figure out what to do. Hence the two stages of Solution Engineering: (1) Investigation in order to determine the appropriate course of action and then (2) Intervention in order to carry it out.

Solution Engineering is a comprehensive approach to solving problems in the workplace. It emerged and has been refined over the course of more than 50 years of solving a wide variety of problems in the workplace. The figure below depicts the "bases" that must be covered in the course of solving any workplace problem.

The articles listed below present a mix of concepts, models, and practical applications, including lots of illustrative examples drawn from personal experience.

Fred Nickols is available to answer questions, make presentations, conduct training and provide consulting and coaching services in applying the Solution Engineering Process. If you have any questions, use the Questions link at the bottom of this page to send them to Fred.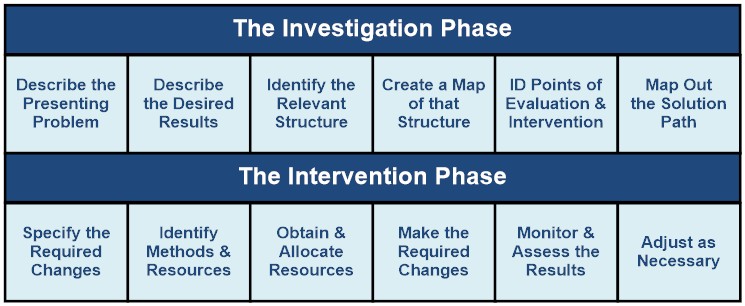 Links in Red are to PDF Files
This page last updated on December 26, 2016