Our Objective is to Help You Achieve Yours
Articles Home Services Tool Room

Sea Stories by Fred "Chief" Nickols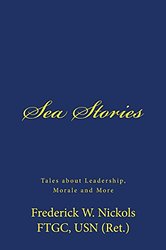 The Sea Stories previously listed here have been incorporated into my new book, Sea Stories: Tales about Leadership, Morale and More. Some reader reviews from Amazon are posted below.
The book is available on Amazon in paperback and Kindle. Clicking on the book's cover image above will take you to my author's page on Amazon where you can purchase the book.
READER REVIEWS ON AMAZON

By Dag Forssell on May 12, 2016
Format: Paperback Verified Purchase
I have known the author for some 20 years through our common interest in Perceptual Control Theory (mentioned on page 95), but met him just once along the way.

I thoroughly enjoyed reading this collection of stories; laughed my head off in places, and came to better understand where Fred is coming from in his current role as an independent management consultant.

These enjoyable stories not only shed light on life in the navy as experienced by the people who actually make the ships function, but provide a perspective on life in any big organization and the importance of a human touch.

Once I got into it, I could not put it down until I came to very last page.

By HR on May 15, 2016
Format: Kindle Edition|Verified Purchase
Full disclosure, I have never spent a day in the military. Yet I found this book both entertaining and educational. Entertaining because the author has a great way with prose and the ability to tell a story with just the right mix of humor and seriousness throughout. Educational because reading this book reminds me of the old saying that those who are ignorant of the past are doomed to repeat its mistakes. And that is the underlying lesson in this book. That life is a series of teachable moments and that we must be able to recognize such moments and apply lessons learned in our future endeavors. Kudos to a story well told.

By David
on June 17, 2016
This review is from: Sea Stories: Tales about Leadership, Morale and More (Kindle Edition)
Chief Nickols had an amazing career in the Navy over 20 years, and the 40 short stories he tells of this career provide a window on life in America in the Vietnam war era, race relations in the military, and the superb training methods used in the Navy. But more than this, Nickols highlights key messages for every aspiring leader based on his personal experiences as he rose through the ranks to become an advisor to the Chief of Naval Operations. These messages are even more important today, as we learn to manage knowledge workers in a fast-moving business environment. This book should be essential reading for every new naval officer, as well as every MBA student.
ABOUT THE BOOK
These sea stories are not just for sailors. They touch on matters of concern to all who live and work in large, rule-bound organizations. These include leadership, morale, authority, loyalty, work, performance, discrimination, diversity, change, conflict, the division and coordination of labor, organizations and, of course, war-fighting.
All 40 stories are based on actual events. Some are funny, some are grim and all of them make one or more points. They are meant to be entertaining and educational.
To give you a sense of what I mean by "sea stories" I am also listing here a link to a paper of mine that includes several such stories:
Bucking the System: Sea Stories about Ethics in Practice
This page last updated on August 29, 2016