"Assistance at A Distance"
| Home | Blogs & Columns | Comments | Personal | Projects | Resume | Services | Tool Room |
Articles by Fred Nickols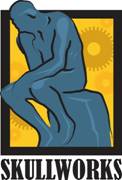 Welcome to my "Skullworks" - a place where I make available the products of my work as a writer and consultant.

To make your way through the more than 200 publications on this site, click on one of the category links below and look through the articles in that category.
You are welcome to a single copy of anything on this web site for your personal use. However, none of the material on this site may be further distributed or posted elsewhere without my express and written permission.

| Home | Blogs & Columns | Comments | Personal | Projects | Resume | Services | Tool Room |
This page last updated on April 14, 2015