Improving the Performance of People, Processes and Organizations
| Home | Comments | Personal | Projects | Resume | Services | Tool Room |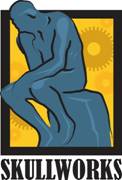 Articles about Work, Performance, Change, Problem Solving, Strategy and More
Welcome to my "Skullworks" - the Articles section of my web site - a place where I make available the products of my work as a writer and consultant.
As the article categories below indicate, my articles cover a broad spectrum of issues: work, workers and working; management; organizations; consulting; change and change management; human behavior and performance; strategy and strategic planning; training and, of course, problem solving or what I prefer to call "Solution Engineering." All are useful in improving the performance of people, processes and organizations.
You are welcome to a single copy of anything on this web site for your personal use. However, none of the material on this site may be further distributed or posted elsewhere without my express and written permission.
This page last updated on May 13, 2013